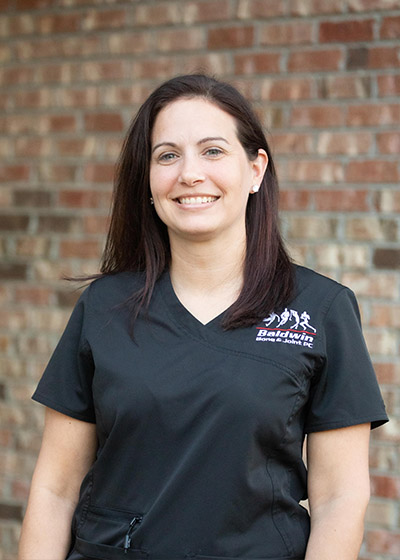 Daphne, AL (November 2, 2021) — The physicians and staff of Baldwin Bone & Joint are pleased to announce that Joy Richardson has joined Workers' Compensation team member, Helen Wright, as co-coordinator.
Richardson has worked in the field of orthopaedic care for 16 years, with 12 of those as a workers' compensation specialist. She is also a Certified Clinical Medical Assistant with Basic Life Support (BLS) certification and has served in numerous administrative roles in the healthcare industry.
"I believe that the variety of experience in my background makes me a perfect fit for this role as co-coordinator with the workers' compensation services department, as I am familiar with most aspects of a medical practice," Richardson said. "I am happy to be here at Baldwin Bone & Joint and hope to bring a level of knowledge and efficiency that far exceeds expectation." (Photo: Joy Richardson)
Richardson adds to the talents of Baldwin Bone & Joint's existing workers' compensation team, with fellow co-coordinator Helen Wright, handling new patient information, medical records, appointments and authorizations for surgeries and diagnostic testing.
Early diagnosis and treatment of industrial injuries are the keys to returning an injured worker to the job as soon as possible, thereby reducing both medical costs and time lost from work. Baldwin Bone & Joint's team of fellowship-trained orthopaedic specialists and workers' compensation experts endeavors to provide responsive medical treatment to the injured worker, while at the same time keeping the employers and insurance carrier apprised of the patient's treatment plan, progress and status.
To reach out to the workers' compensation team directly, call 251.621.5381 or email hwright@baldwinboneandjoint.com or jrichardson@baldwinboneandjoint.com.