BALDWIN BONE & JOINT TO HOST FREE INFORMATIVE 3-PART COMMUNITY EDUCATION SERIES
Orthopaedic Solutions for the Relief of Shoulder, Spine, Neck and Hip Pain
DAPHNE, AL (August, 17, 2018) – Doctors John L. Todd, Charles Gordon and Michael Chamblee, orthopaedic specialists with Baldwin Bone & Joint, P.C. and The Shoulder Center at Baldwin Bone & Joint, P.C, will discuss the common causes and treatment options for shoulder, spine, neck and hip pain in a 3-part community education series to be held on Thursday evenings in September. Each program will begin at 6:30 p.m. and will be held at the Thomas Medical Center – Community Room, located at 27961 US Hwy 98, Daphne, AL.
September 6:
Dr. John Todd, Medical Director for The Shoulder Center at Baldwin Bone & Joint will present "Oh My Aching Shoulder: Surgical and Non-Surgical Solutions." Todd, an experienced, fellowship-trained shoulder specialist, will discuss common causes for this and the latest treatment options available including non-operative and operative care.
September 13:
Dr. Chamblee's presentation, "Today's Solutions for Hip Pain:  The Anterior Approach for Total Hip Replacement," will provide information on current treatment options for the relief of hip pain. He will discuss the management of hip arthritis, and both non-operative and operative intervention, specifically addressing the anterior total hip replacement.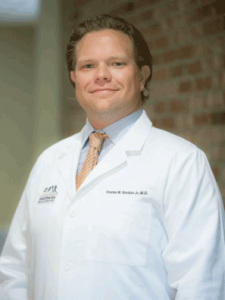 September 20:
Dr. Charles Gordon's presentation: "Getting You Back in the Game: Minimally Invasive and Motion Sparing Spine Surgery Solutions," will provide the latest treatment options for those active individuals suffering from neck and back pain. Dr. Gordon is a fellowship-trained neck and spine surgeon.
Each community education seminar is free and open to the public. Light refreshments will be served. Due to limited space, reservations are required and may be made by calling 251-621-5377 no later than two days prior to each event.
ABOUT BALDWIN BONE & JOINT, P.C.
For 29 years Baldwin Bone & Joint has provided expert orthopaedic care to patients of all ages. Office locations include Daphne, Bay Minette and Orange Beach. Call 251.621.2663 to schedule an appointment. Visit baldwinboneandjoint.com for more information on the practice.